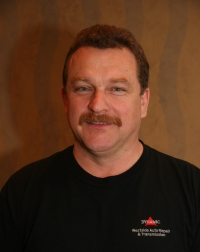 Dynamic Westside Automotive is a complete automotive shop in West Kelowna. Services include repairs, all regular maintenance and in-house transmission rebuilding on all makes and model vehicles.They are an approved facility for repairs for BCAA, ICBC, ATRA and most extended warranty programs.
Ron Smith, owner of Westside Auto has more than 30 years in the industry and has a staff of seven fully licensed employees (including licensed tech service advisors) with expertise in transmission rebuilding, top-level computer diagnosis and diesel service.
They are a maintenance based shop offering detailed information on up and coming repairs. Their services range from complete in-house transmission and engine rebuilding to simple oil changes, belts, burnt bulbs, custom exhaust or OEM, brakes, air conditioning, tire replacement, etc. They have a four-wheel laser alignment machine, tire machine and a motor home lift which means we can provide you with the latest maintenance service whatever your vehicle may be.
Ron believes that maintenance is the key to avoiding future problems.