Dynamic Westside Automotive of Kelowna is proud to be a supplier of some of the best custom wheel distributors in Canada.
Winter, and the associated snow, ice, cold and climatic nastiness that goes with it, will be with us Canadians shortly.
You know that winter tires will make your ride safer if you're driving in winter. You know that you should probably install a set, because they're a good idea.
If you ask someone you know who owns winter tires, they'll tell you they make a big difference for grip, handling, traction and all-around confidence.
They'll tell you, as well, that winter tires pay for themselves the first time you stop clear of an accident situation, rather than winding up in it.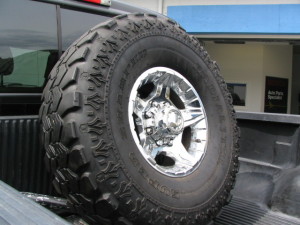 Here's a look at a few key benefits you can expect by installing a set, especially on your newer car, truck or SUV model.
Compromise-free: Winter tires have both a flexible rubber compound and unique tread design that's made exclusively for use on snow, slush and ice and in cold temperatures.
With no compromises made for other seasons, drivers will benefit from significantly increased traction during acceleration, notably shorter stopping distances, and a drastic increase in directional stability at speed.
Where all-season tires are a little bit good in the heat and a little bit good in the cold, winter tires specialize in cold-climate driving, and it shows.
With the compromise-free, cold-climate engineering behind winter tires, drivers can enjoy the cold-weather travel season with peace of mind to spare for themselves, or anyone using their ride.